JANUARY 26 2021
This information is time limited. The rules are changing all the time.
This is not legal advice.
Your situation is unique, this is an introduction, you should talk to a lawyer or your employer.
Providing this info does not create a lawyer/ client relationship.
This is about the law in WASHINGTON state and will be different everywhere else.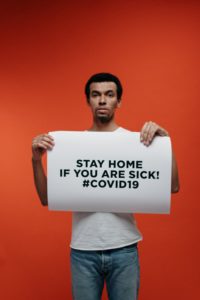 TIME OFF DURING COVID
Emergency Family Medical Leave
Emergency Paid Sick Leave
WA Paid Family and Medical Leave Act
Family and Medical Leave Act
OPTIONS FOR WORKERS AND EMPLOYERS
FFCRA – Coronavirus Stimulus Package
All of the required sick time and special rules that were put in place under the CARES act have expired, sort of. Sick time was required for most employers with fewer than 500 employees. Now it is OPTIONAL up till March 31st 2021.
Employers who chose to offer sick time under the act, are eligible for a tax refund for the actual sick time used by employees. (until the end of march under current rules.)
Workers can get time off under the act in 2 ways:
Emergency Family Medical Leave
Workers can get FMLA time if their children's school or other care option is closed. FMLA, described below, gives you unpaid time off, but your job is secure.
Emergency Paid Sick Leave
Workers can get up to 80 hours paid time off, IN ADDITION to any regular vacation or sick time they would otherwise have, if they qualify in one of the following ways:
Quarantine or lockdown order from government
Quarantine order from a doctor
Experiencing COVID19 symptoms AND taking time to get tested
Caring for a family member who qualifies for one of the three above
Child care is closed due to COVID
WA Paid Family Medical Leave
New (Jan 1 2020) Washington law functions much like an insurance program. Everyone who worked in Washington, about 17 hours per week for the last year, can get time off for "serious health conditions." They can also get time off to care for a for family member who has a "serious health condition."
Hospitalization or 3 days of medical care is serious health condition
Up to 12 weeks of paid time off
The pay rate is a complicated math problem but it is a minimum $100 per week
Workers decide when or if they want to use PFML, its not up to employers and employers can't have rules about when or how it is used
IF you have been employed 12 months or more AND worked at least 1250 hours at the job AND they have 50 or more employees you can't lose your job AND they have to keep paying your health insurance during the time of leave.
Family Medical Leave Act
Federal FMLA provides up to 12 weeks unpaid leave for workers who suffer "serous health condition" or to care for a family member suffering from a "serous health condition."
The federal definition of "family" is more strict than the WA definition so some people qualify for paid leave but don't qualify for FMLA.
If the worker qualifies for WA paid leave, the employer is supposed to sign them up for federal leave at the same time they are getting the state leave
If the worker uses federal time first, they can use use state time later to qualify for 24 weeks total
Basically all it does is makes sure you will have a job waiting for you and keeps your employer provided health insurance (if you have that luxury
WA Family Care Act
Washington law, RCW 49.12.265, says that employees can use any and all paid time off to care for family members. This includes floating paid holidays, vacation time, sick time or any other paid time benefit.
can be used if a child has a health condition that requires treatment or supervision or another family member with a serious health condition or an emergency condition.
WA Paid Sick Leave Requirement
All employers in the state are required to provide sick leave at the rate of 1 hour sick time for each 40 hours worked.